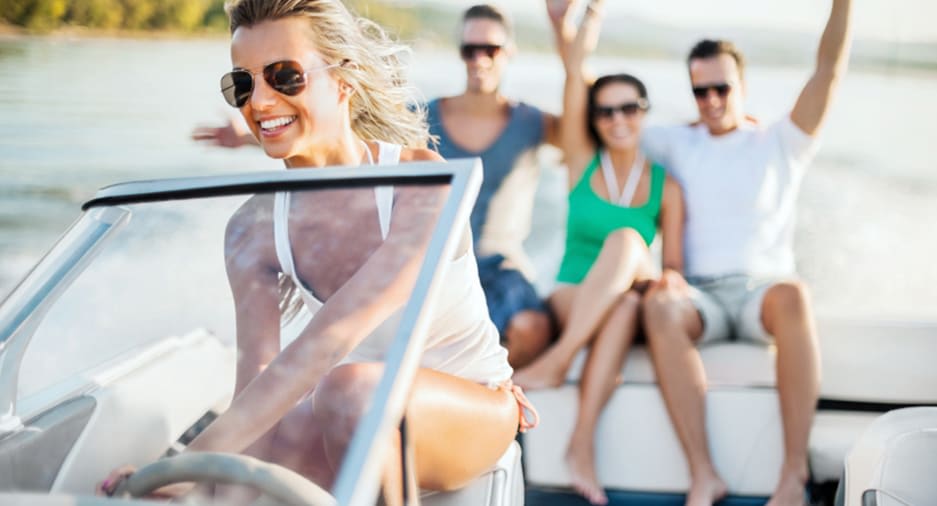 Looking to tow your boat to Tahoe and spend a day on the lake's crystal-clear blue water? Here is your guide on everything need to know to launch and enjoy a day of boating on Lake Tahoe.
Lake Tahoe Boating Rules and Regulations
Whether a boat is accessed through a public or private entrance point, the boating speed limit in the 600-foot no-wake zone from the Lake Tahoe shoreline is three miles per hour. This prevents damage to docks, boats, and the delicate shoreline and protects wildlife. This rule is enforced through multiple marine patrol departments and other enforcement agencies. Additionally, music and amplified sounds should be kept to a minimal level in the "no wake zone" to respect other recreators.
Lake Tahoe Boat Inspections
When launching a boat in a public launch, an inspection for quagga/zebra mussels and other harmful species will need to take place. Inspection and decontamination processes will need to occur prior to launching a boat on Lake Tahoe. Inspectors will ask questions about the boat and its launching history as well as inspect the craft for aquatic invasive species. A sticker will be given upon the completion of the inspection. This process ensures the prevention of harmful species in the Lake Tahoe environment. Lake Tahoe inspection stickers are also valid at Fallen Leaf Lake and Echo Lake depending on which type of pass you decide to purchase. Options are
here.
Lake Tahoe Public Boach Launch Hours and Stickers

In addition to continuous inspections when launching from a public launch, the hassle of inspections, wait times, entry fees, and parking should be considered, so make sure and allow time! Know the hours of your public launch and be off the water in time to receive a new sticker for the next launch to avoid re-inspect and decontamination fees.
Lake Tahoe Boat Inspection Points
Plan to enter Tahoe Basin at one of these locations:
Meyers Inspection Station
Location: 2175 Keetak St, South Lake Tahoe, CA 96150
Hours: May 1 – Sept. 30 open from 8:30 am – 5:30 pm daily
Spooner Summit Inspection Station
Location: NV-28 &, US-50, Carson City, NV 89703
Hours: May 1 – Sept. 30 open from 8:30 am – 5:30 pm daily
Alpine Meadows Inspection Station
Location: 255 Alpine Meadows Rd, Alpine Meadows, CA 96146
Hours: May 1 – Sept. 30 open from 8:30 am – 5:30 pm daily
More information can be found here.
Where Are Lake Tahoe Public Launches?
Ready to Launch? Here is a list of public boat launches around the lake! I've been to nearly all of them, so call me if you want any specific insight!
Sand Harbor, Incline Village (NV State Parks) Open May 1 through May 28 – 7 a.m. – 5:30 p.m. After May 28 – 6 a.m. – 8 p.m.
Cave Rock, Glenbrook (NV State Parks) Open 6 a.m. – 4:30 p.m.
Lake Forest, Tahoe City (TCPUD) Open 6 a.m. – 8 p.m.
El Dorado, South Lake Tahoe (CSLT) Closed for 2021 due to low water.
Kings Beach Boat Launch (North Tahoe Watersports) Closed for 2021 due to low water.
Tahoe Vista Recreation Area, Kings Beach (NTPUD) Closed for 2021 due to low water.
Find more information about private launches and marinas
here.
Lake Tahoe Jetskis, Boats, and Personal Watercraft
While many watercraft are allowed on Tahoe waters, the TRPA disallows most carbureted two-stroke engines. Two-stroke engines that are Direct Fuel Injected (DFI) and have passed the 2001 California Air Resources Board (CARB) or Environmental Protection Agency (EPA) 2006 standards may be launched and used on the water. To learn about whether a particular boat is allowed on Lake Tahoe or surrounding areas, visit Tahoe Boat Inspections.
Sound like a hassle? Let's discuss lakefront ownership or ownership in a neighborhood that offers an HOA with buoys and lake access! Call me to discuss or view my Resources Page here.